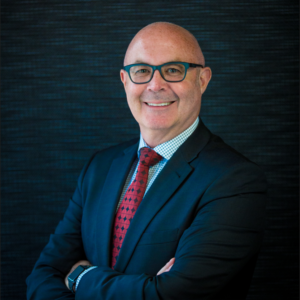 On behalf of all our staff and students, I am delighted to welcome you to ECA College of Health Sciences (CHS).
CHS is a dynamic Australian Institute of Higher Education offering postgraduate degrees in Sydney and Brisbane as well as online. We help students every trimester transition from study to rewarding careers through our courses in Health Management.
At CHS we care about your needs and aspirations. Our faculty and staff understand that education is the key to intellectual enrichment, acquisition of fresh perspectives and professional advancement. Our courses are uniquely designed to impart management and leadership knowledge related to healthcare. We aim to develop the next generation of health managers and leaders who can act as agents of change and respond to the needs of the community and wider stakeholders. Our courses are designed to be engaging, challenging, flexible and rewarding. Our faculty and staff are here to help you realise your aspirations and achieve your personal goals. I would like to invite you to take a tour of our College and the facilities and services we provide. It is important that you familiarise yourself with the requirements of your course and the support and services that are available to help you complete your course successfully.
Our primary objective is to provide, foster and promote academic rigour and professional attributes in each individual student. We design engaging courses so our students can develop the capabilities and skills to assume positions of responsibility in both organisations and society. Our belief is that education and professional development are the keys to sustained success in the changing business and social contexts of today.
In addition, we are focused on providing students with a safe and nurturing environment that encourages creativity and growth. At CHS, we understand the transformative process students experience engaging in higher education and how that impacts their career and wider aspirations. We endeavour to provide our students with the education, advice and capabilities to flourish wherever they choose to work and live.
Thank you for choosing CHS. We look forward to welcoming you to the College.
Professor Anthony CAHALAN
Chief Executive Officer, Higher Education, Education Centre of Australia
Principal Executive Officer, ECA College of Health Sciences