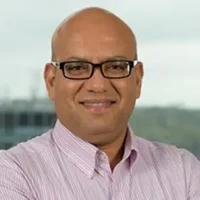 Chair, Scholarship and Research Committee, Director of Studies
MBBS, PGDip, MSc, PhD, MRCSEd, CPHIMS, FAIDH
Over 20 years, Dr Khalifa led multidisciplinary healthcare and information technology teams to develop and implement evidence-based solutions to direct healthcare strategy and operations of healthcare services. Using health analytics and business intelligence, Dr Khalifa led diverse projects, enhancing patient safety, healthcare effectiveness, efficiency, and timeliness. Over the last 10 years, Dr Khalifa published +50 journal papers and book chapters and was granted an innovation patent from IP Australia in 2018.

Before joining CHS, Dr Khalifa served as the Digital Health Officer of the Australian Digital Health Agency and as Researcher and Consultant of Healthcare Strategy and Analytics at Macquarie University, Sydney. Dr Khalifa was the Director of Healthcare Strategy and Performance Improvement at King Faisal Specialist Hospital, Saudi Arabia. He also worked as Director and Instructor of the Healthcare Management Program at the American University in Cairo, Egypt. Earlier to that, Dr Khalifa served diverse positions, focused mainly on healthcare strategic management and performance improvement, health informatics project management, healthcare business intelligence, and healthcare big data analytics.

Dr Khalifa is a medical doctor, got his MBBS – Bachelor of Medicine & Surgery from Ain Shams University in Cairo, Egypt in 2001, Post Graduate Diploma of Healthcare and Hospital Management from the American University in Cairo, Egypt in 2004, a MSc – Master of Science in Health Informatics from the University of Edinburgh, Scotland, United Kingdom in 2012, and a PhD in Health Innovation from Macquarie University, Sydney in 2020. Dr Khalifa is an FAIDH – Fellow of the Australasian Institute of Digital Health, an MRCSEd – Member of the Royal College of Surgeons of Edinburgh, United Kingdom and he is also a CPHIMS – Certified Professional in Healthcare Information Management Systems, an Accredited CPHIMS Trainer and an Advisor on the Technical Committee of the CPHIMS exam, HIMSS – Healthcare Information and Management Systems Society, United States. Dr Khalifa is also a member in the HIMSS and the AHIMA – American Health Information Management Association, United States.