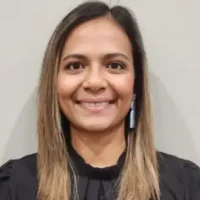 Registrar - Director Student Services
A commercially astute and outcomes focussed senior leader with over 14 years experience within the education industry and a postgraduate qualification in Master of Business Administration (MBA), Danica is an energetic, adaptable, and highly motivated professional who is passionate and committed to delivering value, building and maintaining successful internal and external relationships and enhancing the student experience.

As a subject matter expert within Education her commitment towards student success and team success sits at the centre of every strategy she creates and decision she makes. Danica has held several senior leadership roles in higher education for over a decade working alongside Universities and Private Higher Education Institutes across Australia and New Zealand with the purpose of ensuring students have a positive study experience. She has worked with prospective students, current students, graduates and alumni as well as students within the work integrated learning setting encompassing the entire student life cycle.

Danica is passionate about optimising organisational processes, measurement systems and strong trusted stakeholder relationships to deliver operational and commercial objectives. She enjoys transforming roadmaps into workable solutions and benchmarks performance against key operational targets/goals. Leadership is at the core of her professional experience. As a recognised people leader and mentor she has strengthened global cross-functional teams by creating an environment of psychological safety and fostering a culture of collaborative problem solving. Danica leads her team with professional integrity and fosters a supportive and empowering environment that encourages high performance, room for her team to grow and develop and to take steps that bring them closer to their career goals and aspirations. Most importantly she strives to bring fun and pride into the work she undertakes with her team and colleagues.