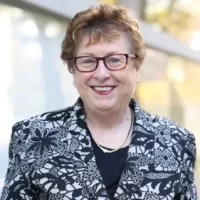 Emeritus Professor Anne Cummins
BEd (Canberra CAE); MA (MQ); GradDipEd (Catholic College of Education Sydney), MEDL (ACU); GAICD
Emeritus Professor Cummins has extensive experience in educational leadership and governance and has served on several incorporated and advisory Boards including the ACT Board of Studies, The Australian Catholic University Senate Limited, Marymead Child and Family Services Limited, Marist Youth Care Limited, St Edmunds' College Canberra Limited, the Council of St Ignatius College Riverview Limited and Sydney College of Divinity Limited.

From 2009 to 2018 she served as Deputy Vice-Chancellor (Student Learning and Teaching) at the Australian Catholic University and before that as Dean of Students at the Australian Catholic University in 2008 and 2009.

Emeritus Professor Cummins worked for many years in the Catholic secondary education system as a teacher and secondary college principal in New South Wales and the ACT. She is currently a Director of Catholic Schools NSW Limited, the Chair and Director of Catholic Employment Relations Limited, The Chair of the Stewardship Commission of the Sisters of St Joseph.