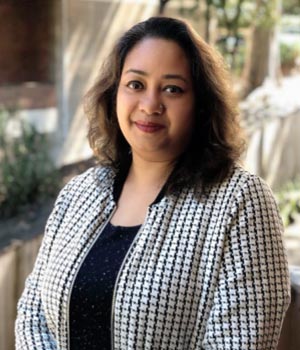 Dr Samia Amin
PhD (Macquarie University, Australia)
MPH (North South University, Bangladesh)
MBBS (Mymensingh Medical College, Bangladesh)
LinkedIn
Twitter
Dr Samia Amin is a medical doctor who specializes in Public Health. She has over 17 years of experience in clinical, academic, managerial, and leadership proficiency in Bangladesh, Malaysia, and Australia. Before moving to Australia, she was an Assistant Professor of Community Medicine in Malaysia. Additionally, she has worked as a Managing Director at a 100-bed private hospital in Bangladesh where she delivered health care leadership and management. As a Research Assistant in the paediatrics haemato-oncology discipline in Bangladesh, she measured the neurological complications in children with acute lymphoblastic leukaemia. Throughout her clinical academic career, she has supervised several postgraduate and undergraduate health science students across the globe.
Dr Samia Amin has received her PhD in Health Innovation from Macquarie University where her research focused on exploring the social factor influencing vaping (use of electronic cigarettes) uptake in Australia using a systematic review and mixed-methods study design. She has received a prestigious academic scholarship, publication award and travel grants for her PhD project.
Samia completed MPH majoring in Hospital Management from Bangladesh. Her thesis examined the prevalence of hospital-acquired infection and the proportion of Methicillin resistant staphylococcus aureus strain in a surgery unit of a tertiary hospital in Bangladesh.
Research activities throughout her career involved the various fields of health sciences providing a panoramic perspective of the health sciences rather than a narrow focus. Her postgraduate study and experience across several medical disciplines have provided her with a broad set of skills in public health research. She has extensive experience in research across qualitative, quantitative, and systematic reviews. Her current research focuses on tobacco epidemiology, addiction medicine, chronic disease management, and mobile health technology. She has published papers in high impact journals and presented research findings in prominent public health conferences.
Samia is fascinated to contribute her knowledge and skill to improve preventive medicine and health informatics. Her main aim is to develop theoretically informed evidence, which can have an applied impact on improving health. She is also eager to engage in the industry sector to transform academic skills for commercialisation.